Assignment 03: Dear Data Visualization
Using "dear data" as a guide, create a set of rules to visualize your data - you may use digital tools, but analog style is encouraged. Think about the ways in which Georgia and Stefanie parameterized the aspects of their records to produce their visualizations. Find ways to express your own personal style and aesthetic in the implementation of your rules.
-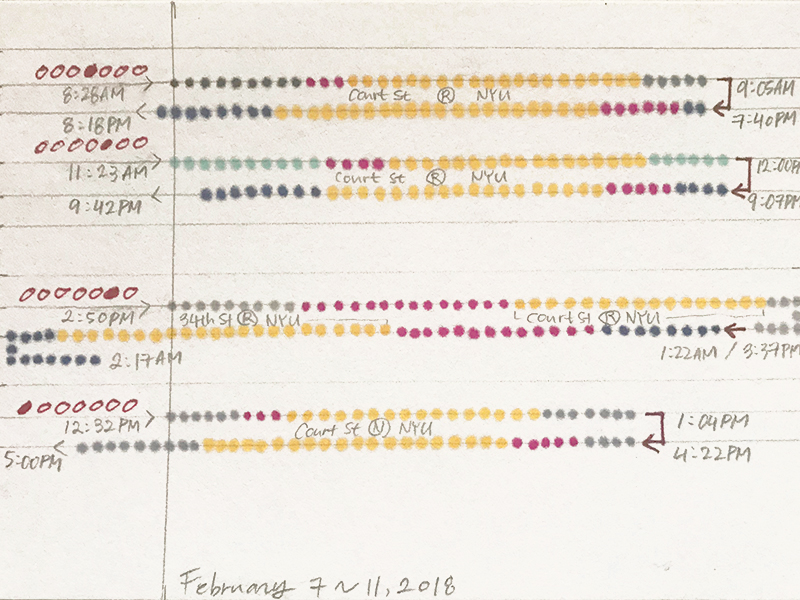 My initial discussion about Dear Data in class was done with Krizia and Miki, and we decided to do a project about a daily commute (an in-class sketch is included on the first image). Unfortunately, we struggled to adjust our schedule for further meeting, so the collective visualization that adds all our data was canceled. Nevertheless, I proceeded my personal one and was surprised that my visualization is very different from Miki's work, despite of the same topic.
This is the backside of my project, and as it's mentioned: one dot represents one minute. I found out that I have cycle of "walking - waiting train - riding train - walking" every time I commute, so I distinguished each part with different color. Color for "walking" changes upon weather, although if it happens during night~midnight it will be consistently dark navy.
When I collected data, I didn't want to carry around several pens and impulsively make mistakes on Joey's awesome paper. To avoid that, I made a little form in flash cards so I can quickly write down times. The data for February 9th is bit extraordinary, because I went home late after drinking for while. Surprisingly, I kept myself to continuously write down data but in extra messy way. Not to mention the different distance changed the overall commute time in much longer way and I ran out of space in the final piece only for the day.