Process/wth is this:
Many advices I got last week were just purchase hemispheres already if I'm interested in. So, hemispheres were purchased, but the problem was how to make it rotate - one method came in my mind was having ring that can be screwed with the hemisphere edge.

Its diameter is 18" and the edge part is 3/4". The screw holes that came with were useless because they didn't even match each other.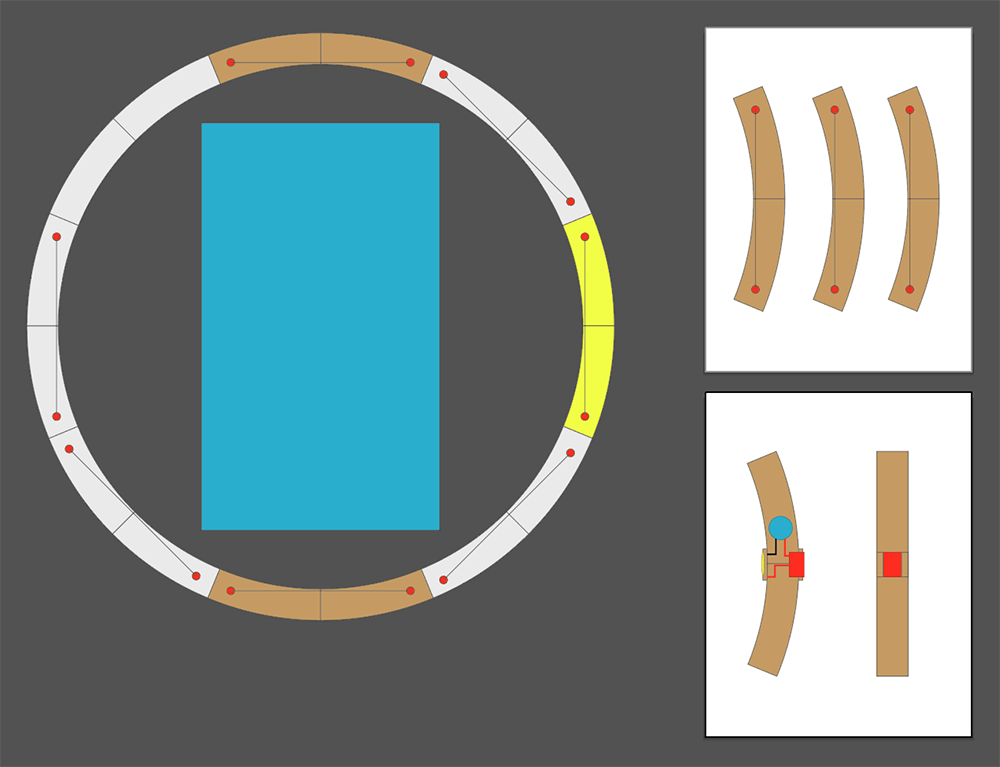 Initially I thought of making all 8 parts in the sketch. I don't know why and fortunately I realized that I only need three parts: top, bottom, and middle part that contains light source (indicated as yellow in the upper sketch).
All ring parts will have 1" height excluding hemisphere edge thickness in order to have adequate space to put through axis later. Some things I purchased as well are binding barrels and screws. However, while waiting for them to arrive I tried to think of how to make the middle/light part with standoffs. The standoffs I got from Huiyi had 2/8", 3/8", 6/8", and 7/8" lengths. Based on those options I had, I decided to use 4 of 3/8 standoffs and 1/16" acrylic sheets.
...but the design could've been constantly modified only because I made prototype with cardboard. By making the prototype, I could check and fix the general scale and positioning.
I haven't got to the soldering part for the acrylic version, because I was still unsure about (1) how would I attach components (2) the required distance for light to activate photosensors. The prototype was given for testing! Have fun Huiyi.
Another problem I encounter was that I couldn't half cut and fold acrylic sheet as cardboard for switch and led parts. I kept go through the Intro to Fab week 4 post to get any inspiration. Then, I saw the (weird) mini hinges I got for the previous module project.
I made two holes per a hinge in bigger size than they used to be, with drill. They function the same way as attachment blocks.
The wooden top and bottom parts were made with band saw and Dremel, using the same way and material as my previous module exercise.